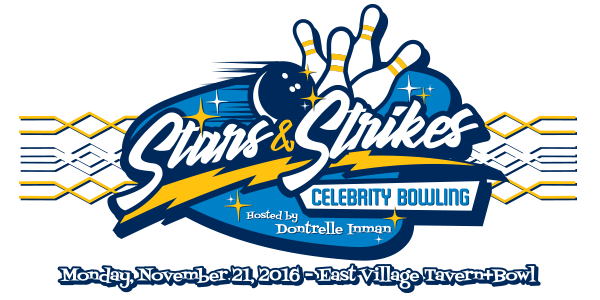 STARS 'N STRIKES CELEBRITY BOWLING WITH HOST DONTRELLE INMAN
Join host Dontrelle Inman & your favorite San Diego Chargers for the inaugural Stars & Strikes Celeb-am Bowling Tournament!
Come eat, drink, bowl and watch the Raiders take on the Texans on Monday Night Football at the luxurious East Village Tavern + Bowl located in downtown San Diego's historic Gaslamp District. Doors open at 5pm.
Charitable proceeds will be donated to the Adaptive Sports and Recreation Association, a nonprofit organization dedicated to providing year-round athletic programs to children and adults with physical disabilities.
For more information on participating and sponsorship opportunities contact Hunter Rittgers at hunter@ismsports.net or 858-836-0133.
CLICK HERE TO GO TO STARSnSTRIKES.net
+++++++++++++++++
August 4, 2015
ISM TO ASSIST WITH THE ADAPTIVE SPORTS AND RECREATION ASSOCIATION 2015 SUMMER CAMP
Adaptive Sports & Recreation Association 2015 from ra creations studio on Vimeo.
The Adaptive Sports & Recreation Association's mission is to improve the quality of life for children and adults with physical disabilities through sports and recreation. ASRA works to coordinate and foster a program of adaptive sports for individuals with a permanent physical disability that prevents them from participating in sports and athletics by providing competitive league sports, recreational team sports, instructional camps, sports clinics, and offers other adaptive sports based on need and interest.
www.adaptivesportsandrec.org
www.rubenalamo.com
+ + + + + + + + + + + + + + +
Integrated Sports Marketing, Inc. was established in 1999 and specializes in Event Management. Headquartered in San Diego, CA, ISM helps organizations achieve their goals by applying skills attained through over 70 years of combined experience in the field. ISM's extensive contacts and understanding of the market make it a valuable asset to any organization looking to make an immediate impact.

From an event's creation to activation, ISM offers complete management services including:
Strategic planning
Logo and website design
Budgeting
Venue negotiations
Sponsorship sales and fulfillment
Marketing and public relations
Event operations
Hospitality and entertainment
ISM presently owns and manages the Celebrity Championship hosted by Marshall Faulk at Morgan Run Club & Resort. Entering its 17th year, the event alone has raised approximately $1,400,000 for San Diego area charities. Charitable proceeds from this year's event benefited the Junior Seau Foundation and the Marshall Faulk Foundation. ISM also owns and manages the LaDainian Tomlinson 5k. Proceeds from the LT 5k benefit the Tomlinson Touching Lives Foundation.
In addition to the Celebrity Championship hosted by Marshall Faulk and the LT 5K presented by EDCO other 2015 ISM events include:
•The Live Well San Diego 5K to help create awareness throughout San Diego County of foster care and adoption programs and the Live Well San Diego Initiative
•Team RWB 5K/10K Fun Run
•The Pink Line Breast Cancer Awareness Fair
ISM has previously produced other events within the San Diego community and beyond including:
•The Grand Canyon University Run to Fight Children's Cancer 5k, one-mile fun run and cancer survivor walk in San Diego. Proceeds benefitted pediatric cancer including the Ronan-Thompson Foundation and Max's Ring of Fire
•The Darren Sproles 5k in Kansas City benefiting Sproles Empowered Youth, helping under-served teen
•The Stephen Strasburg 5k with Tony Gwynn benefiting San Diego State University's Aztec Baseball Program
•The Get 1 Free Wish Celebrity Classic Hosted by Hank Bauer benefiting the San Diego Chapter of Make-A-Wish
In the summer of 2012, ISM managed the logistics for the Palomar Pomerado New Hospital Community Celebration, unveiling a brand new 740,000-square-foot, 11-story, world class hospital to a crowd of approximately 15,000. ISM also transformed YachtFest, a celebration of the yachting lifestyle held annually in San Diego for 10 years, into one of the premier Super Yacht Shows on the West Coast featuring yachts valued up to $30,000,000. ISM's "The Pechanga Celebrity Poker Challenge", was produced into four one-hour television shows aired throughout the West Coast on Fox Sports Net West and won numerous local TV awards.

In addition, ISM provides sponsorship sales services and worked with San Diego State University to assist in securing the Naming Rights for Viejas Arena in 2009. ISM has also represented former Chargers Hall of Fame linebacker Junior Seau, Beal Racing of the NHRA, the San Diego Sockers of the Major Indoor Soccer League (MISL) and Pumas de la UNAM of Mexican Premier Division.